Digital Marketing is a constantly evolving concept, which has made its presence feel like an extreme necessity today. Hence, there will always be a need for skilled digital marketing professionals. Considering today's market scenario, what is the scope of Digital Marketing in India? Working options are fascinating:
Remote work culture is the new normal.
Work from home is gaining momentum.
Opportunities from anywhere are available for you.
So, we should take this recent trend in digital marketing and the digital industry as an opportunity.
On the other hand, no business can grow its reach without having a well-defined digital marketing strategy. The audience for every business is present online and is waiting to get connected with you.
To reach and connect with this audience, you need a team of professionals who have expertise in developing a proper marketing strategy. Anyone can develop this expertise by learning the core concepts of Digital Marketing. You need a detailed digital marketing course to help you understand everything.
What is the Scope of Digital Marketing in India?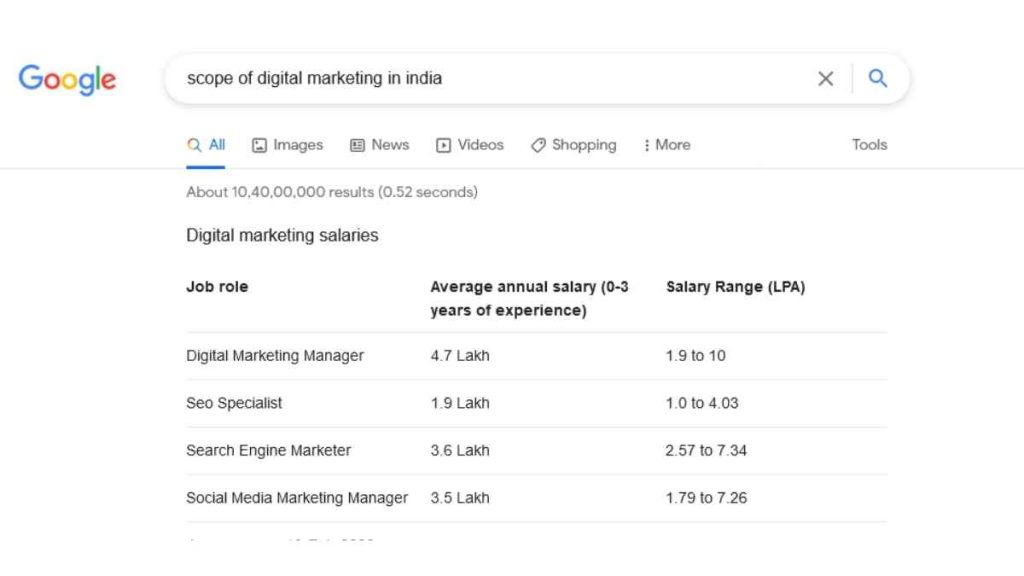 One of the reasons why the scope of digital marketing in India is so wide and interesting is that the sector is constantly evolving, and new tools for marketing are getting introduced.
LinkedIn lists "Digital Marketing Specialist" as one of the top ten most in-demand careers, presenting 860,000 job opportunities.
Social media, content planning, SEO, analytics, and other digital marketing skills are among the most sought-after jobs.
If you Google the term "scope of digital marketing in India", you will get these stats of job roles and related salaries.
Career opportunities in Digital Marketing in India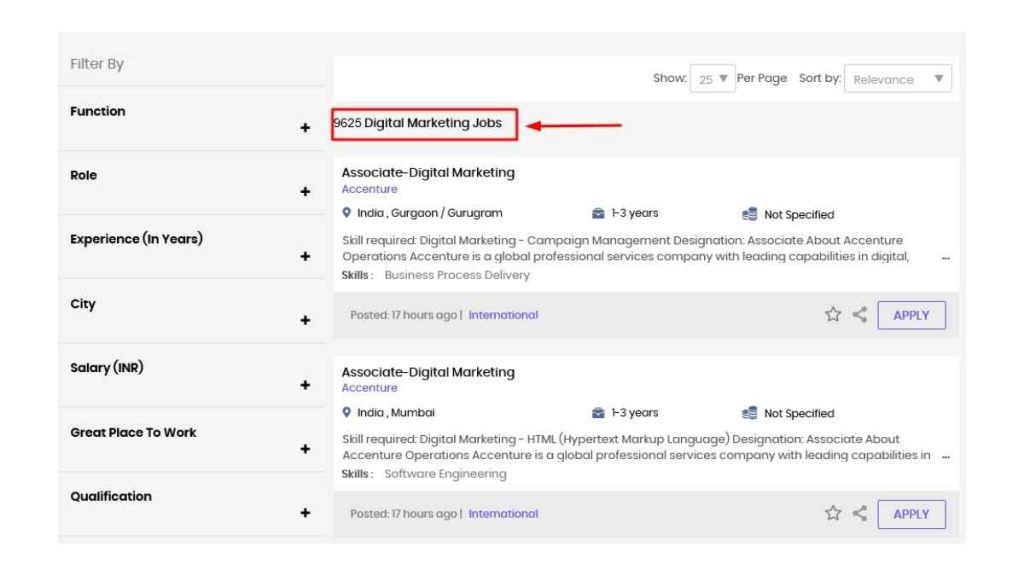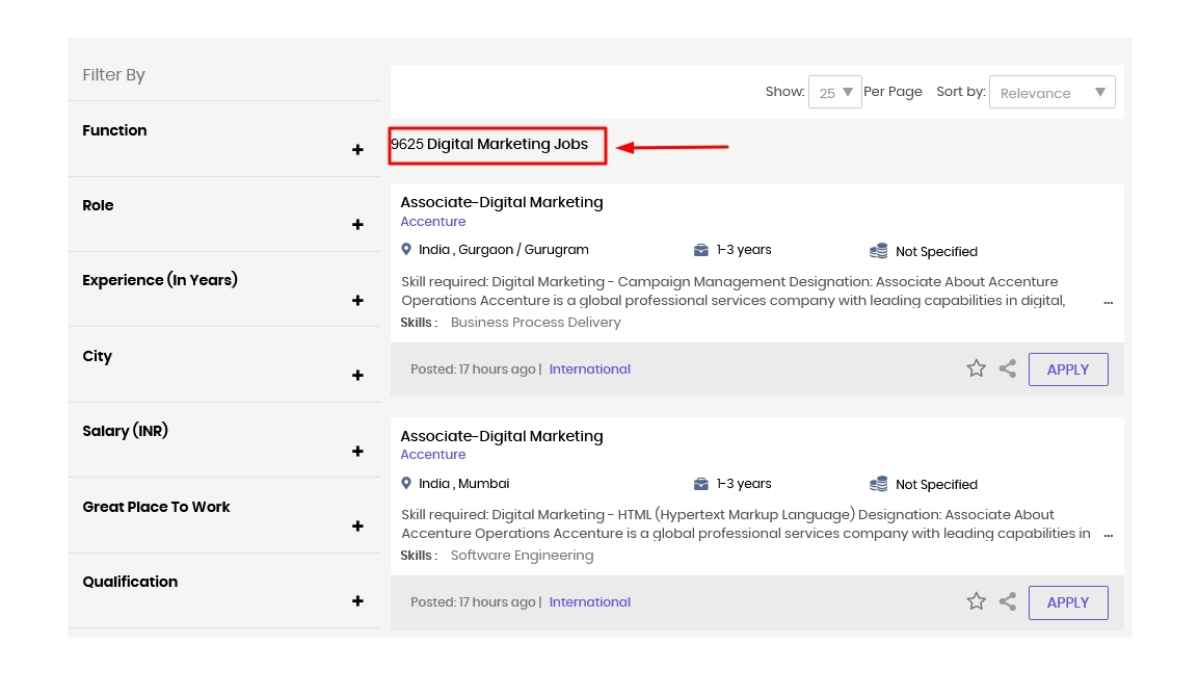 Because of its ability to market products and services to a worldwide audience at reasonable rates, digital marketing has become very popular everywhere.
One of the many reasons marketers shifted to digital marketing was to advertise your products online to only those who fit your target audience criteria or remarket your ads to people who showed interest in the past.
Furthermore, since the Covid-19 crisis, digital marketing has been widely adopted by businesses of all sizes because it has proven to be one of the most effective ways to conduct online marketing campaigns. Hence, opportunities have grown and its importance is getting recognized and used.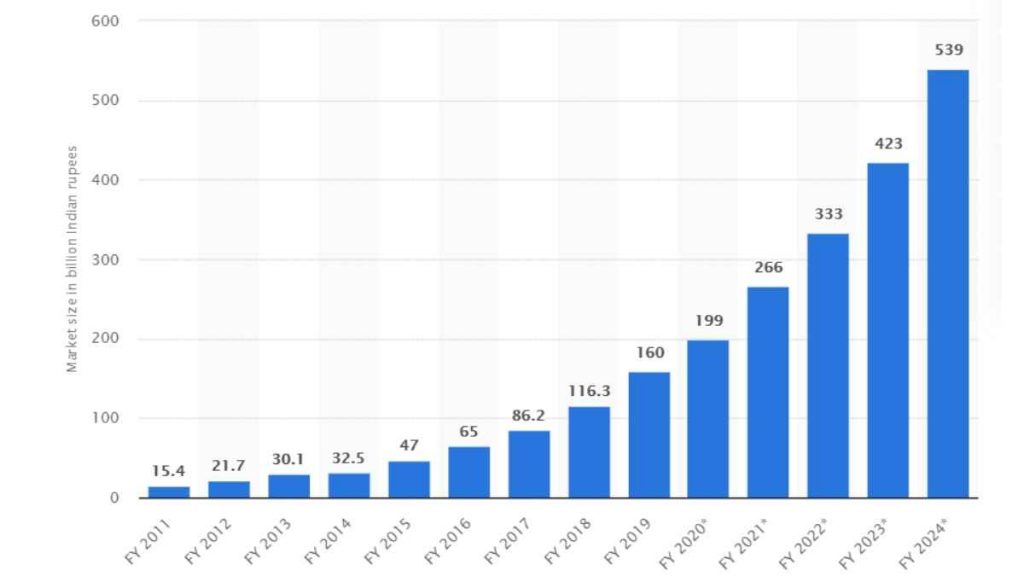 An SEO expert must know
HTML + CSS
Local/Mobile SEO
Technical SEO
Keyword Research
Google Tools
Link Building
ON Page SEO
A/B Testing
An SMM expert must know
Content creation
Monitor social analytics
Develop a social strategy
Measure the ROI
Schedule posts
Find curated content
Engage with the audience
Generate content ideas
A Content Writer must know
Adaptability
Research skills
Creativity
SEO knowledge
Time management
Communication skills
Editing skills
Social media knowledge
An Adwords Expert must know
Practical Knowledge of Statistics
Copywriting Expertise
Keywords Research Knowledge
Landing Page Designing
Knowledge of eCommerce Processing
Understanding of Customer Journey Map
Editing skills
Social media knowledge
An Analytics Expert must know
Assessing and reading the stats.
Exploring core analytics.
Understanding user behavior and interaction.
Use this data to generate the next optimal strategy.
Presenting the data and finding loopholes.
Keeping tabs on bounce rate and low-performing content.
SEO Professional Expected skills
An SEO professional specializes in learning and mastering the algorithms that govern search engine results. Which in turn assists their clients and businesses in appearing in search.
Today, SEO is an integral part of digital marketing. Many SEO professionals gain skills through classes and certifications before earning salaries commensurate with their level, job role, and company size.
SEO professionals must have data analytics, writing, marketing, research, web content, HTML, link building, competitor analysis, keyword research skills.
Experience with SEO tools such as SEMRush, Moz, and others is also required.
SMM Professional Expected skills
Social Media Marketers assist our clients with social media strategy, are experts at creating visual content, and write content for social media posting as social media managers.
Some have experience with Facebook, LinkedIn, Pinterest, and Instagram paid ads. They are the company's public face as social media managers.
We speak to potential customers, current customers, and past customers on behalf of businesses. When social media managers use their skills wisely and with a strategic plan, it increases website traffic, leads, and sales.
Content Writer Expected skills
Content writing is a type of writing that is primarily used for digital marketing purposes. Content writers make it possible for any product or service to go public and be understood because of the information they provide.
Because content is the foundation of any business's reputation, content writing is the foundation of all marketing for any purpose. If you want to put it that way, content writing is the art of creating written, video, or image-based online content. Businesses and organizations hire content writers to produce high-quality content in blogs, social media posts, and articles to promote their products or service.
Some content writers specialize in a particular area of writing, but others can write in any style or genre. A content writer's job is to create engaging, helpful, and easy-to-understand content which generates interest and, ultimately, sales. Content writing can prove to be a great skill-set for anyone who is planning to develop a career in digital marketing in India or anywhere around the world.
Google Ads Professional Expected skills
Working with a qualified advertising specialist is one of the most effective ways to expand your company's online reach. A knowledgeable Google Ads expert can assist you in generating leads, increasing online traffic, and increasing revenue. A Google Ads specialist is a professional who assists in creating campaign strategies and goals, the launch of new campaigns, the management of campaigns, and the distribution of monthly and weekly performance reports.
Companies that run online businesses or want to drive traffic to their websites are always looking for Google Ads Specialists. The main reason is that well-designed online campaigns can generate leads and revenue. Because of the increase in organic traffic earned through their expertise, the demand cycle for Google Ads professionals has increased significantly.
Google Analytics Professional Expected skills
Google Analytics has become a must-have tool. That's not the end. When we consider how businesses are increasingly turning to digital platforms for customer acquisition, Google Analytics' potential is growing by the day. The internet has transformed businesses to the point where it has spawned new business models in previously unimaginable domains.
To give just a few examples:
Food delivery businesses; who would have guessed that a simple website or app could deliver food from your favorite restaurants to your doorsteps a few decades ago?
Booking of miscellaneous household services; the days of looking for a plumber, electrician, or gardener in the city are long gone.
Home service companies have organized the most disorganized and widely dispersed services and made booking them a breeze for end-users.
You need a specialist to measure all these stats and keep a tab on those. This is your Google Analytics professional at work, busy segregating and sorting the data to generate a clear marketing picture.
SEO Salary in India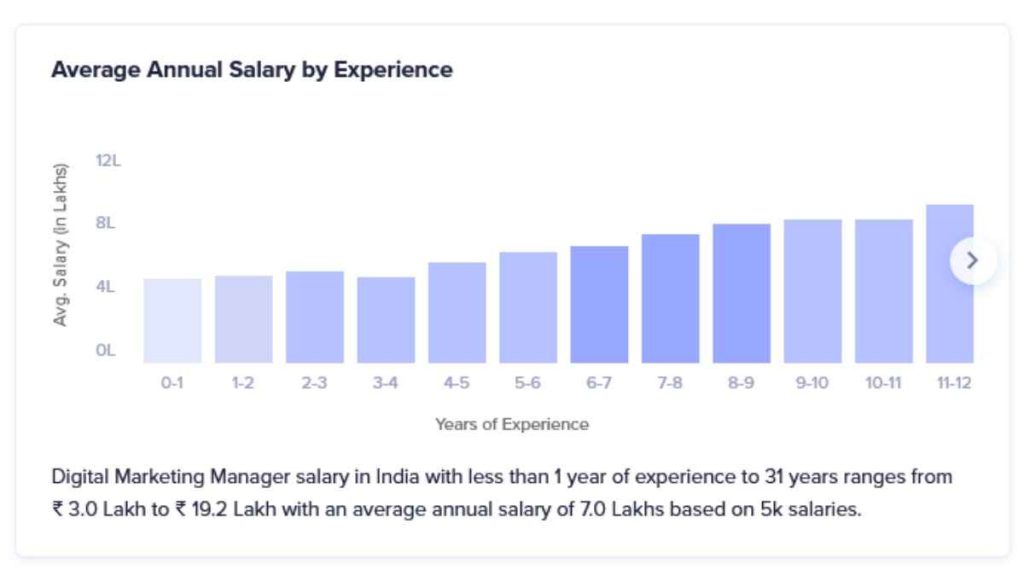 Digital Marketing Salaries As Per Profile & Experience
| Designation | Salary Range |
| --- | --- |
| SEO Fresher | ₹96,000 – 1,44,000 per year |
| SEO Trainer | ₹6,00,000 – 8,40,000 per year |
| SEO Analyst | ₹2,40,000 – 3,24,000 per year |
| SEO Strategist | ₹3,00,000 – 3,60,000 |
| SEO Consultant | ₹3,30,000 – 6,00,000 |
| SEO Manager | ₹3,60,000 – 5,40,000 |
| SEO Director | ₹9,60,000 – 18,00,000 |
SEO managers with more than five years of experience earn ₹535,000 per year in India. At the same time, managers with more than ten years of experience earn ₹740,000 per year.
Pune pays the most for managers of any Indian city, with 18% more than the rest of the country.
The lowest salary is paid in Delhi, which is 24% lower than the national average.
Bangalore pays 49% more than the rest of India.
Ahmedabad pays 38% lesser than the rest of the country.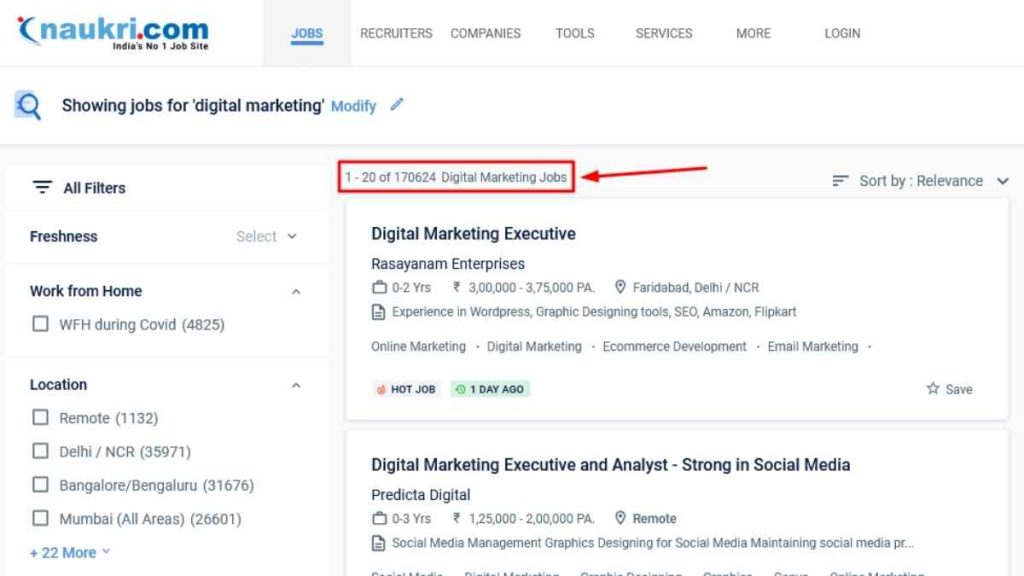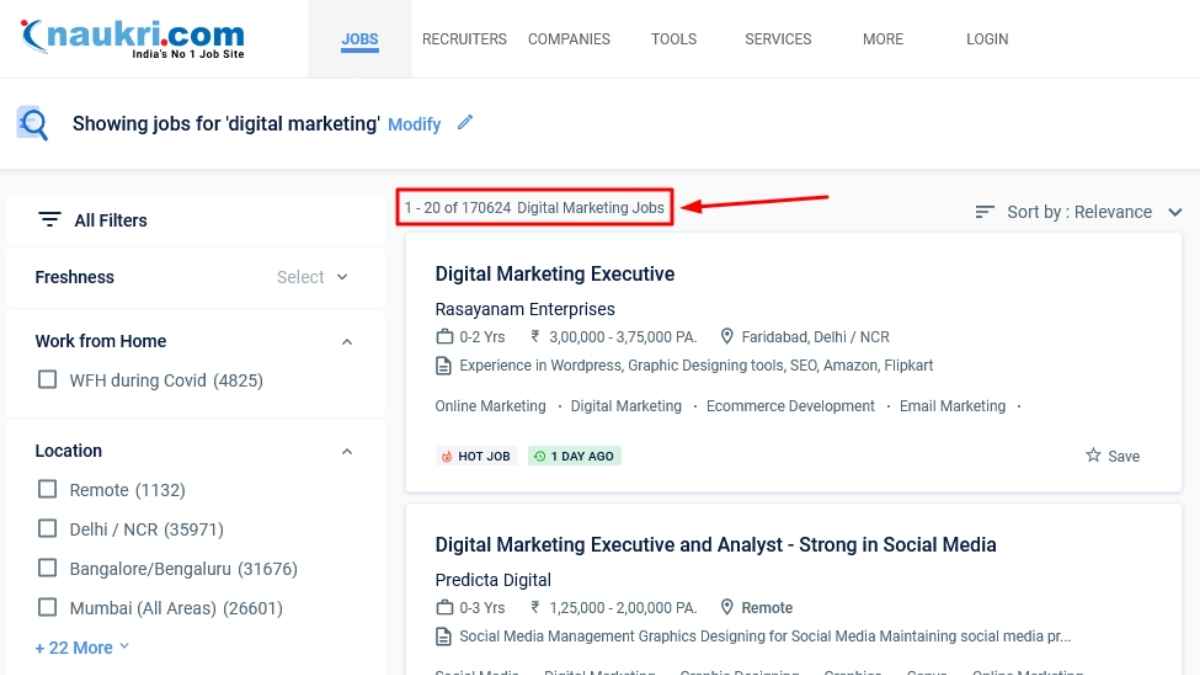 The scope of Digital Marketing in India is abundant and can be very lucrative and challenging. With many big names offering the position, responsibilities are complex, but the salaries are superb.
Check the following stats of all salaries, positions, and companies offering the digital marketing profile.
Conclusion
Overall, considering all the facts and stats, it is safe to say that there is a pool of huge opportunities if you talk about the scope of Digital Marketing in India. You can easily choose a profile and start mastering it to get the maximum benefit for yourself. Eventually, it is a big decision. So, think about it and grab the available opportunities with both hands.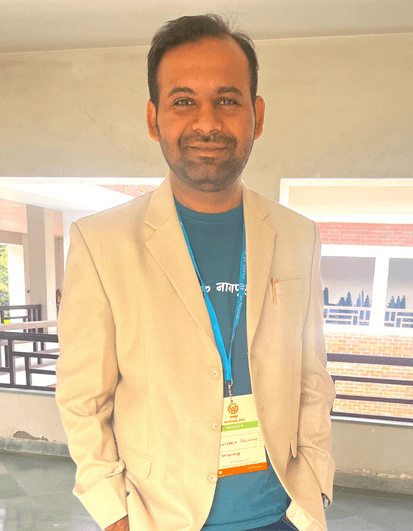 10+ Yrs Experienced Skill Development Trainer | Educator | Digital & Content Strategist. Helping freshers and graduates make sound career choices through practical consultation. Guest faculty and Digital Marketing trainer working on building a skill development brand in Softspace Solutions.