Social media has exploded in popularity over the past few years and it has become a crucial part of our daily lives. Brands and businesses are making the most of it by using it as a tool for marketing. However, managing social media is not as simple as it may seem.
This is where social media management comes in. What is social media management? It involves creating, managing, and analyzing content for social media platforms in order to engage with the audience and build a strong brand presence. It includes crafting a strategy, creating content, managing communities, tracking data, and much more.
The evolution of social media management has been remarkable, as have the responsibilities of a Social Media Manager. Here we aim to discuss the social media manager job description with respect to the expected outcome.
From being just another tool, social media has become an integral part of a marketer's toolkit. As platforms have evolved, so has the role of a social media manager. It has become an essential aspect of marketing.
The importance of a social media manager cannot be emphasized enough. With millions of users on various platforms, social media allows brands to reach out to their audience.
Table of Contents
Effective management helps build brand awareness, increases engagement, drives website traffic, and leads to increased sales. So, if you want to succeed in today's digital world, proper and pinpointed social media management is a must!
Social Media Manager Job Description
As a social media manager, you are responsible for managing a brand's online presence across different platforms. Your success at this job depends on your ability to create and implement effective social media strategies, produce compelling content, engage with your brand's community, and monitor and report on your performance.
When we talk about the social media manager job description, we have the following pointers to look at:
Creating Social Media Strategies
To succeed as a social media manager, you need to be able to develop and implement a social media strategy that aligns with your brand's goals. This involves understanding your target audience, identifying their platforms, and creating content that resonates with them.
You also need to be able to track your progress, adjust your strategy as needed, and stay up-to-date with industry trends and best practices.
Content Creation and Management
As a social media manager, you will be responsible for creating and curating content that engages your audience and supports your brand's message. This could involve writing and editing blog posts, designing graphics and videos, and developing other types of content.
You will also need to schedule and publish your content, engage with your audience, and analyze your performance data.
Community Management
As a social media manager, you need to actively manage your brand's online community. This involves responding to comments and messages, moderating content, and resolving customer complaints.
You need to be able to communicate effectively with your audience, build trust and loyalty, and maintain a positive brand image.
Monitoring and Reporting
Finally, as a social media manager, you need to track your performance and report on your results. This could involve using analytics tools to monitor your engagement, follower growth, and reach, and creating reports to share with your team and stakeholders.
You will also need to be able to analyze your data and use insights to improve your social media strategy.
There you have it – the key responsibilities of a social media manager. If you have a knack for creativity, communication, and data analysis, and if you enjoy staying up-to-date with the latest trends and techniques in social media, then this might be the perfect job for you.
Social Media Manager Job Responsibilities
Overall, the social media manager job description engulfs multiple sets of responsibilities. Some of them are listed below:
Create social media campaigns and specify the KPIs for them.
Publish new content on numerous social media platforms.
Engage consumers and followers.
Respond to client concerns.
Use Sprout Social and Hootsuite as examples of social media marketing tools.
Observe the most recent social media trends.
Observe your traffic and SEO.
Analyze online traffic statistics and marketing data.
Consolidate connections with social media influencers.
Improve the material that content creators produce.
Communicate with high management and stakeholders.
These responsibilities may require diverse skill sets as well. Obviously, it is a managerial position. Writing socially appealing content, social media ad copies, and creatives for the target audience. Brand uplifting ideas and scripts for various video marketing strategies. It is a lot to handle. But yes, it is a very rewarding role.
Skills Required to Excel as a Social Media Manager
Do you have what it takes to succeed in the world of social media management? It takes more than just being social media savvy to excel in this role. Here are some key skills needed to make your social media manager job description come alive:
Excellent communication skills are a must-have for any social media manager. You must be able to create clear and concise messaging that resonates with your target audience. You also need to be able to handle any customer service complaints, questions, or concerns in a professional and timely manner.
Strategic thinking is another essential skill for a social media manager. You must be able to think creatively and develop effective strategies that will get results. This means knowing your audience, keeping up with the latest trends, and analyzing data to make informed decisions.
Creativity is also crucial in social media management, as you must be able to come up with engaging content that will capture the attention of your audience. You need to be able to think outside the box and find innovative ways to promote your brand.
Data analysis is another important skill for any social media manager. You must be able to track and analyze metrics such as clicks, likes, shares, and comments. This will allow you to identify what is working and what needs improvement so that you can adjust your strategy accordingly.
Teamwork is also essential in social media management, as you will often be working with a team of designers, copywriters, and other professionals. You must be able to collaborate effectively and provide clear direction to ensure that everyone is working towards the same goal. In conclusion, becoming a successful social media manager requires more than just being social media savvy.
You must have excellent communication skills, strategic thinking abilities, creativity, data analysis capabilities, and the ability to collaborate well with a team. If you possess these skills and can demonstrate them with confidence, you're well on your way to nailing your next social media manager job interview!
Platforms Every Social Media Manager Should Master
Platforms Every Social Media Manager Should Master Social media platforms play a crucial role in modern-day marketing. As a social media manager, you need to have extensive knowledge and hands-on experience with various platforms to succeed in your role. Here are the platforms that every social media manager should master:
Facebook
With over 2.6 billion active monthly users, Facebook is a juggernaut in social media marketing. Facebook enables marketers to create both organic and paid campaigns that can reach a vast audience. Facebook also allows you to join groups that align with your brand and engage with your target audience.
Instagram
Known for its visual appeal, Instagram has become a favourite platform for social media marketing. With over 1 billion active users, Instagram enables you to showcase your brand with beautiful images, videos, and stories. Instagram is perfect for the fashion, beauty, and food industries and can drive traffic and sales with the right strategy.
LinkedIn
For B2B marketers, LinkedIn is the perfect platform to reach decision-makers and industry professionals. With over 700 million active users, LinkedIn enables you to share industry insights, network, and publish long-form content. LinkedIn can help you establish thought leadership and generate leads.
Twitter
Despite having a character limit of 280, Twitter has become a potent tool for social media marketers. With over 330 million active users, Twitter enables you to interact with your target audience through hashtags, direct messages, and retweets. Twitter is perfect for providing real-time updates and delivering concise messages.
YouTube
With over 2 billion monthly active users, YouTube is the second most visited website in the world. YouTube is perfect for creating video content that can educate, inform and entertain your target audience. By partnering with influencers or creating your own channel, you can engage with your audience and create brand awareness.
TikTok
According to Forbes, TikTok is the fastest-growing platform, with over 2 billion downloads worldwide. TikTok enables you to create short, engaging videos with music and trending themes. With TikTok, you can reach a young audience and showcase your brand in a unique way.
Snapchat
Known for its ephemeral nature, Snapchat has over 400 million active users. Snapchat is perfect for showcasing your brand personality through filters, lenses, and short videos. Snapchat also enables you to collaborate with influencers and create geo-filters to promote events.
By mastering these platforms, you will have a better understanding of your target audience and how to engage with them effectively.
Remember, every platform requires a unique strategy, and there's no one-size-fits-all approach to social media marketing.
Social Media Management Tools You Need to Know
As a social media manager, you need to be well-versed in the latest and greatest social media marketing tools. Here are some of the top tools you should know:
First up, Hootsuite allows you to manage multiple social media accounts and schedule posts in advance. You can also track your social media performance with detailed analytics.
Next, Buffer is another great option for managing and scheduling social media posts. It also has a feature called "Pablo" which allows you to create quick and easy social media graphics.
Another tool to consider is Sprout Social. It has a unified inbox where you can manage all your social media messages and mentions in one place, making it easier to respond to your audience.
Canva is a design tool that allows you to create stunning social media graphics, posters, banners, and more. It has a wide range of templates and design elements to choose from.
Later is an Instagram scheduling tool that allows you to plan out your Instagram feed in advance. This is particularly useful for businesses that rely heavily on visual content.
And lastly, Google Analytics is a must-know tool for analyzing your website's traffic and social media performance. It allows you to track clicks, impressions, and conversions from social media platforms.
Overall, having a good understanding of these tools will make you a more efficient and effective social media manager. And let's face it, who doesn't want to make their job a little easier?
City-wise Salary
| City | Average Salary |
| --- | --- |
| Mumbai | ₹7,00,000 – ₹8,00,000 |
| Delhi | ₹4,50,000 |
| Bangalore | ₹4,00,000 |
| Chennai | ₹3,00,000 |
| Hyderabad | ₹3,50,000 |
Salary As Per Experience Level
| Experience Level | Average Salary |
| --- | --- |
| Entry-level | ₹244,313 |
| Mid-level | ₹350,000 |
| Senior-level | ₹1,000,000 |
Tips for Nailing Your Social Media Manager Job Interview
So, you've landed yourself a social media manager job interview. Congratulations! You're one step closer to becoming a social media guru. In order to nail the interview, there are a few key points you should keep in mind.
Firstly, research the company you're interviewing for and its social media presence. Familiarize yourself with their brand voice, social media tactics, and their target audience. This will showcase your interest in the company and your willingness to go the extra mile.
Secondly, be prepared to show previous work. It's always a good idea to have a portfolio of your previous social media work on hand. This will allow the interviewer to see your style and experience with social media management.
Next up, demonstrate your creativity. As a social media manager, you'll be expected to bring fresh and innovative ideas to the table. Provide examples of creative social media campaigns you've either initiated or partook in, to show off your creative abilities.
Don't forget to showcase your communication skills. Strong communication skills are essential in social media management. During the interview, ensure that you are able to articulate your thoughts and opinions clearly and succinctly.
Lastly, talk about your experience with social media management tools. Highlight your experience with social media scheduling tools, analytical tools, and any other tools you've used regularly.
This will prove to the interviewer that you have the technical knowledge and proficiency necessary to succeed in the role. With these tips, you're well on your way to acing that social media manager job interview. Good luck!
Conclusion
A Social Media Manager's role is vital in our digital world. To excel, a Social Media Manager should be proficient in crafting strategies, creating engaging content, managing communities, and monitoring metrics.
Additionally, team collaboration skills and data analysis proficiency are crucial. Platforms like Facebook, Twitter, Instagram, and LinkedIn are crucial to mastering, and tools like Hootsuite, Buffer, Sprout Social, Canva, Later, and Google Analytics are essential to managing one's workload.
In interviews, research the company, showcase your previous works with social media tools, and demonstrate creativity and communication skills. With this guide, you should be ready to take on the world of Social Media Management!
Frequently Asked Questions About Social Media Manager Job Description
What is a social media manager's role?

A social media manager is responsible for creating, implementing, and managing social media strategies to enhance brand visibility and engagement.

What are the key responsibilities of a social media manager?

The key responsibilities include content creation, community management, social media advertising, analytics tracking, and staying up-to-date with trends.

What skills are essential for a social media manager?

Essential skills include content writing, graphic design, data analysis, social media platform expertise, communication, and creativity.

What qualifications are typically required for this role?

While specific qualifications may vary, a bachelor's degree in marketing, communication, or a related field is commonly sought. Relevant experience is also valuable.

How does a social media manager contribute to a company's success?

By driving brand awareness, fostering customer engagement, increasing website traffic, and generating leads, a social media manager plays a pivotal role in a company's growth.

How does one become a social media manager?

To become a social media manager, gaining relevant experience through internships, freelance work, or entry-level marketing positions can be beneficial. Additionally, acquiring a diverse skill set and staying updated on industry trends are crucial steps toward success in this role.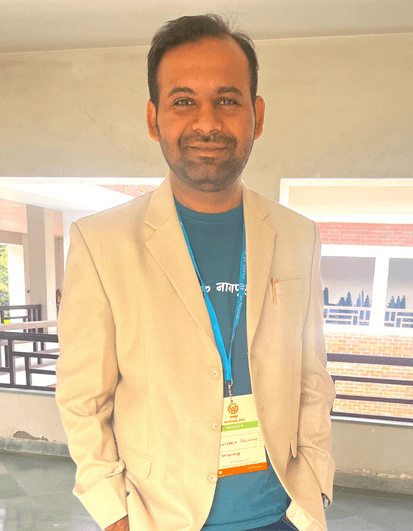 10+ Yrs Experienced Skill Development Trainer | Educator | Digital & Content Strategist. Helping freshers and graduates make sound career choices through practical consultation. Guest faculty and Digital Marketing trainer working on building a skill development brand in Softspace Solutions.