When we start talking about the term "Career in Digital Marketing", we are actually discussing multiple profiles included in Digital Marketing. These profiles individually are counted as a specific Job Profile as well.
As a starter, you are expected to have a basic idea or an overview of what every profile is and what responsibilities are included in that profile.
If you are working for your own business or on your own, you have to take up all the responsibilities on your shoulders which is a humungous job.
HUMUNGOUS? WHY?
Because, Digital Marketing consists of multiple responsibilities and tasks, which when coming together as a whole give you the actual result i.e. "RANKING IN THE SEARCH ENGINE RESULT PAGES".
So, when you talk about becoming a Digital Marketing professional, there are multiple questions that arise at the start, such as:
What exactly am I supposed to do?
What are my responsibilities to achieve a website ranking?
Are they possible by myself?
Or is it too much to handle?
All these questions will be discussed here in this blog.
So, How to build a career in Digital Marketing?
What am I supposed to do?
First of all, you are supposed to gather knowledge of all the basic components which contribute to Digital Marketing. A career in Digital Marketing is meaningful only when you have a thorough knowledge of how all the following components and how that contributes to the ranking of any online business.
Let us start learning Digital Marketing.
To become a successful Digital Marketer, you need to develop skills in all the online marketing components. This includes everything from SEO to Social Media and others like PPC, OFF PAGE, ON-PAGE & LOCAL SEO etc. But individually these components are not enough to fulfil your ask. You need to develop the mastery to combine them together to achieve results. It is a tough task and requires a lot of patience and perseverance.
Search Engine Optimization
This is the process of increasing your online visibility and website traffic through a webpage which is optimized for search engines. This includes only the organic rankings and not the paid result. The ranking on major search engines like Google and Bing is based on what the search engine considers most relevant to the query entered by any user.
This optimization requires working on various factors such as website layout, content, heading, images and more. The primary job of SEO is to rank your website for a particular set of keywords, which when entered by a user will show your website in the results.
Content Optimization
Content optimization simply means optimizing your content for the web. It is always mentioned by experts, "Write for the user, not for the search engines". Why so? Because your audience is a living human being. If he likes it, he will buy it. As simple as that. So, write engaging content for users with a set of proper keywords which are always searched by a user.
You can get relevant keywords through Google AdWords free tool known as Keyword Research. As soon as your content is getting indexed, your website starts getting hits and the ranking follows.
Social Media Optimization
Similar to the search engine, there is a task for optimizing your content for the social media platforms as well. It is simply a process of increasing awareness of your product, or brand by using social platforms such as Facebook, Instagram, LinkedIn, Twitter etc. The objective here is the same as SEO i.e. driving traffic to your website.
The goal of SMO is to generate traffic to your website by the use of high-quality content, images, videos and other media to engage people and generate a probable clientele. Simple activities here include LIKES, SHARES, MESSAGES, RETWEETS and PROMOTIONS. Social Media Optimization has tremendous power in attracting a crowd to your business. You just need a proper strategy and engaging content.
Social Media Marketing
Social Media Marketing is a way of reaching your audience on social platforms through paid advertisements. In this task, you create content and run an advertisement for a particular set of audiences by setting demographics and location. The demographics allow you to target your desired audience with age, gender, likings etc.
Other than posting on your social pages, this type of marketing involves engaging only the audience you are interested in. So, this has to be very specific and precise. You need to set a goal on what you want to achieve through your paid promotional campaign. Measuring the performance of these goals and conversions will give you the desired business.
Email Marketing
Email marketing is a tool which helps you engage with your potential audience via email. This email can be a commercial message, a promotional offer or new product information. Email is someone which every millennial customer is using. With their first engagement with you, they provide you with their details via the contact form or other such media.
This database of emails is then used for remarketing purposes. Email marketing allows you to segregate your customers into different lists and send them personalized and furnished content which might interest them to do business with you. This is a perfect channel to drive engagement with the help of pinpoint valuable content.
Search Engine Marketing
Search Engine Marketing is nothing but marketing on Google and similar search engines. This kind of advertisement is costly but has the power to give your direct customers. How? People search for things on google for which they are desperate. If you catch the keywords they are searching for, you can land them on your business website. Then your Landing page has to have the power to convince them, that yes, you are the ideal service provider for their requirement. Search engine marketing is a tricky and costly tool. You have to keep track of keywords searched, your budget, negative keywords and finally conversions. Every factor costs you money. So, keeping an optimized strategy is a must.
Website Design
Finally, we come to where it all lands," THE WEBSITE ". If this is attractive and filled with useful content for the user, you are in business. Else, you are wasting money on online advertising. A website is a platform, which is supposed to give the audience an overview of your business and services. Engaging content with appealing graphics and a fresh look is what is necessary to convert a visitor into a customer. Nearly 95% of a person's first impression relates to web design. Also, the average consumer attention span in 8 seconds. You have to make it in that much time. else, you lose a potential customer.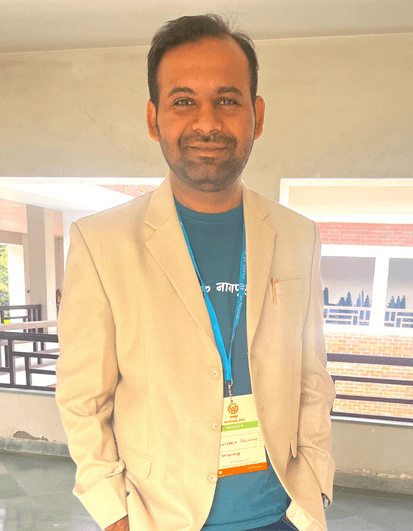 10+ Yrs Experienced Skill Development Trainer | Educator | Digital & Content Strategist. Helping freshers and graduates make sound career choices through practical consultation. Guest faculty and Digital Marketing trainer working on building a skill development brand in Softspace Solutions.