Good, you have your business website online now. That is a great achievement. But is it optimized for search engines? If not, you need to follow the SEO checklist we have here for you.
You need to tell Google that you are online and ask it to push you towards the top with some technical steps.
Here we have a TECHNICAL SEO CHECKLIST which will give you proper guidance on how you can present your website to the search engines to help them rank it better.
First of all, let us understand what SEO means. SEO is the process of optimizing your website and the content in such a way that it appears in the organic results of the search. To implement SEO, you need the knowledge of:
How do search engines work?
What the audience is searching for?
How do they search?
If you have a detailed understanding of your audience's search intent and related behaviour, you can implement an SEO strategy by yourself. Here is an SEO CHECKLIST on How to optimize your WordPress site for Search Engine Crawlers.
ON-PAGE SEO CHECKLIST
Use Keywords in the URL & page title
For a start on SEO, you need keywords. Keywords are a simple combination of words that a user puts up as a question on Google. For example:
Best restaurant around me.
Best pizza parlour in Nagpur.
Wedding cards shop in Nagpur.
Whatever the query, it is a keyword. This is what you need in your page title and URLs. Your website URL should look like www.myshop.com/best-wedding-cards
www.mypizzashop.com/best-thincrust-pizza
Now to support that, you need a kickass meta descript to show up in the Search Results.
Include keywords in H1, H2 & H3 tags
The H1 tag on HTML is what Google focuses on as your Page Title. Make sure you have only one H1 tag on every page. Rest all can be repeated. This H1 tag must include your primary keyword. Yeah, the one which you want to rank for. H2, H3 and others can include synonyms and LSI keywords.
Add an appealing meta description with the title
This is something that appears under the title in search results. Within 160 characters, you have to convince the user to click on it. So, this needs to be the best short description of your service.
Add keywords in the alt tag
Images and infographics are crucial parts of enhancing your page appearance. But, search engines cannot read images. Hence, you need to assign them your primary and LSI keywords for search engines to index those.
Use internal links for easy spot navigation
If you have a certain topic relating to another service or blog, you need to link it there, so that users can know more details about it.
Ex: We provide the best pizzas made from our homemade dough and delicious toppings.
A recipe for homemade dough can be linked to the bold text.
Now for the technical part, which helps you strengthen what you did on the website.
Technical SEO Checklist
Set up a search console to identify site errors
Google Search Console. A tool which helps you track and measure
Your performance.
Where you rank for a particular keyword.
Site issues and related factors.
Site improvement techniques.
Check whether every URL is submitted to Google or not.
Inspects your sitemap as well.
Updating and adding new content for indexing.
It is simply the best free tool to monitor your site's performance with respect to search engine crawlers. For the search console, you need to submit a sitemap and robots.txt file for search engines to easily crawl your website.
Check crawl errors
A crawl error simply means Google is not able to view a page on your site. If Google does not view a page, it won't rank the page. As simple as that. Crawl errors can be found in the COVERAGE REPORT on Google Search Console. 
Check your page through Google's eyes
The INSPECT URL tool on Google Search Console helps you identify issues on your page, that Google is facing. You need to fix them quickly if you want to rank better. Simply input a URL in the field and test the live URL. You can also REQUEST INDEXING.
Site speed optimization
Website speed is directly related to user experience. If a site loads slowly, the user loses interest and exits. 40% of users leave if the site does not load within 3 seconds. 
To check your optimization status, you can check it with tools like gtmetrix or PINGDOM. These tools also tell you the areas of improvement to help you make your site faster. This is a very important part of SEO optimization.
Optimize the site for mobile devices
Mobile devices account for around 52% of web traffic. More than half of all video streaming is via mobile devices. When you optimize your site for mobile devices, you need to look after the following factors:
Is the site adjusted to multiple layouts?
Does it load quickly on mobile devices?
Implement AMP with plugins.
Google has recently launched Mobile-First Indexing which focuses on the performance of the sites on mobile devices. You won't rank well if you don't have a mobile responsive website. The mobile-friendly test will surely help.
Robots.txt file
It is a guidance file for search engine crawlers which pages and files to index for search results. Its primary purpose is to avoid overloading your site with requests.
Crawlers of all search engines may not obey the instructions. So, if you wish to secure some files from them, you should use password protection for those. 
For WordPress, your robots.txt file should contain the following code
User-Agent: *
Allow: /wp-content/uploads/
Disallow: /wp-content/plugins/
Disallow: /wp-admin/
Sitemap: https://mysite.com/sitemap_index.xml
Here, we have allowed search engine crawlers to index our files in the uploads folder.
We have disallowed them from indexing plugins and the wp-admin folder.
Finally, we have provided a URL to our sitemap.
Simply adding this code will help you in guiding the crawlers to scan your website.
Check redirects if you changed any page links
Redirects convey to search engines that a page has been permanently moved to a new location or address. 301 redirect is recommended redirect. 
The new location must have the actual related content. Redirection is the best plugin in WordPress to do that.
Duplicate content
Never copy content from any other website and paste it on the site. PLAGIARISM will affect you badly and you will get penalized. Google filters out the pages with valuable and distinct information. 
If your pages are not getting indexed, you might be losing organic ranking. Moving your site from HTTP to HTTPS can also cause duplication. Hence REDIRECTS are essential.
For your Google Search Console and Google Analytics, you can install a plugin named SITE KIT BY GOOGLE. This will help you set up both services in WordPress itself. 
WordPress is made to make things easy. Through this blog, we are trying to do the same for non-technical users.
How to optimize your WordPress site for search engines is a complete blog on Technical SEO factors which will definitely help you get your site indexed properly for ranking.
In the end, the SEO checklist to get search engine crawlers is a must-follow guide to get started. Go through it and share your questions here. We would love to assist and get more knowledge from you as well.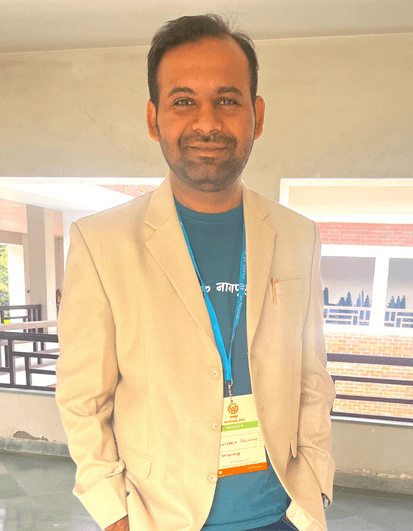 12+ Yrs Experienced Career Counsellor & Skill Development Trainer | Educator | Digital & Content Strategist. Helping freshers and graduates make sound career choices through practical consultation. Guest faculty and Digital Marketing trainer working on building a skill development brand in Softspace Solutions. A passionate writer in core technical topics related to career growth.