Bringing a business online has become crucial to succeed today. So getting indexed on Google becomes a prime necessity. Obviously, if you are not on the web search, you are as good as invisible. No one can see you or know about you. You don't want this, do you? Obviously not. 
You need to be online for people to see. In fact, you need a website to show off your business services. Get on the Google First Page to gain the maximum benefit.
Google has 90.46% of the market share worldwide among search engines. Most people don't even know the others. So, if you get your website ranked in Google Search Results, imagine the benefit you get from your competitors. 
In this blog, we teach you 10 steps on how to get indexed on Google quickly and without any technical know-how.
1. Check Your Site Yourself on Google
If you have already created a website and it is live, you can certainly check its visibility. Just visit Google.com & type site:mysitename.com. You will see your site if it is indexed. But, there is no duration mentioned by Google for how long it takes to index a site. It is executed by two processes.
Crawling: It is a process where Google sends a crawler or spider to obtain new and updated data. Google obtains a variety of information from multiple sources such as:

Web pages.
Submitted content.
Google My Business.
Maps submission.
Crawling is basically the first step to finding the existence of your page on the web.
Indexing: This process allows Google to scan the site and store the relevant data and know what the pages are about. In this, Google indexes and lists all the web pages. Whenever you update any, it automatically scans and updates it with new data.
2. Use Google Search Console
Google Search Console is undoubtedly the best way to know the details of your website. It is a truly useful tool to speed up your website indexing. It gives you:
Crawling stats.
Indexing information.
Your position in the results.
All these stats can help you know the website's status. Submit your website here, to get indexed on Google. Follow the given procedure:
Click on URL inspection in Google Search Console.
Enter the URL.
You will see the indexing status on the next page.
If not indexed, ask to get it indexed again.
You should submit every new URL for indexing this way. But only 10 URLs per day.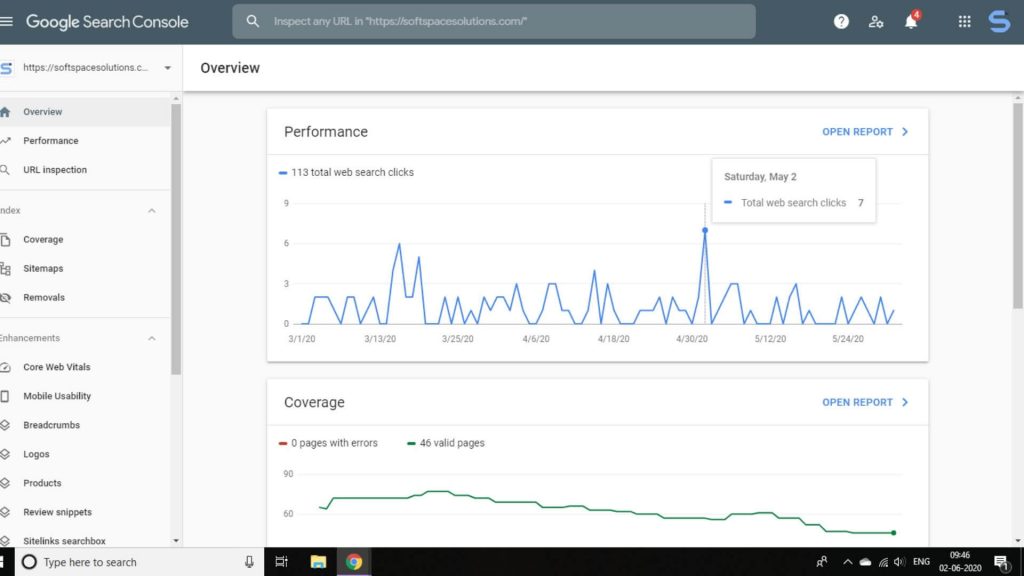 In the search console, after login, you will find ADD PROPERTY option when you click the URL address. There you will get two options:
Domain.
URL prefix: Enter the URL here. Ex: https://www.mysite.com
This will take you to the next page saying VERIFYING PROPERTY. There are multiple methods to do this. But, the best way is to upload the given HTML file. This file you will have to upload to your hosting.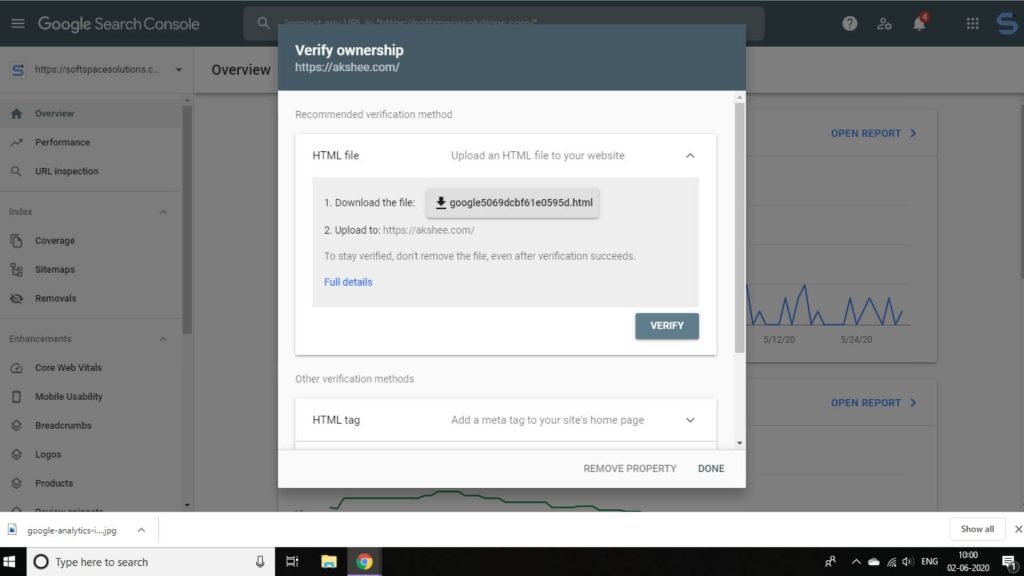 For this just type the URL https://www.mysite.com:2083. You already have the C-panel login details provided by the hosting service. After logging in, you have to go to FILE MANAGER > PUBLIC_HTML & upload the HTML file here. To verify, just come back to the search console and click verify.
Google Search Console will tell all the issues related to your website. Your job is to rectify those and allow search engines to properly index your site. It will also tell you about sitemap details, which is the upcoming point.
3. Submit A Sitemap to Google
First of all, your website structure is what Google must understand. For this, you need to generate a sitemap and submit it to Google. You can use any tools to generate a sitemap. We prefer SCREAMING FROG APPLICATION.
With a sitemap, Google will index your site quickly and understand the website structure and flow. Once you have generated your sitemap, submit it to your Google Search Console account via Sitemaps → Add a new sitemap. You can verify the submission as shown in the image below.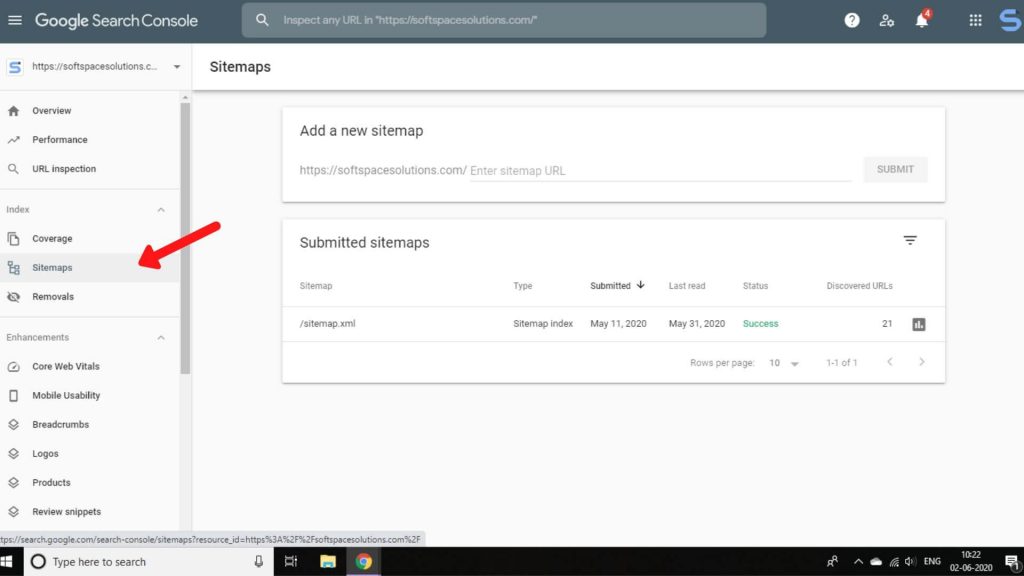 4. Tell Google What To Index & What Not To
For this, you will need a simple text file known as ROBOTS.TXT. This file tells the search engines which folders to scan and which not to. Your site not getting indexed due to crawling block errors which are handled via the robotos.txt file only. A simple file for a WordPress website would be like this:
User-Agent: *Allow: /wp-content/uploads/
Disallow: /wp-content/plugins/
Disallow: /wp-admin/
Disallow: /readme.html
Disallow: /refer/
Sitemap: https://www.mysite.com/sitemap.xml
5. Engage in Social Media
This is another great way to get traffic to your website and get it recognized easily. You can do this before your launch a website, just to create hype about what you are offering.
Facebook, Twitter, Linkedin, and Instagram are the busiest platforms to take advantage of. Getting engagement and tweets is vital for your search engine ranking. Link all the social platforms to your website.
Provide quality information through posts and blogs every day. Use relevant HASHTAGS to get a quality audience. Follow a posting schedule. Check what times are best for posting.
This will ensure faster crawling of the pages. As a result, the more the buzz, the faster the indexing. This is a simple way to get indexed on Google.
6. Optimize Website Speed
A slow website is always disinteresting. If you don't show up in under 3 seconds, you lose the maximum traffic. Therefore, you must improve your website performance by following the given steps:
Get good hosting enabled with GZip compression.
Use compressed images.
Optimize for mobile devices.
Nobody likes a slow website. Even if you are the best at your business, a slow website will hurt you a lot. This is what our site report says. We would still love to reduce the time by 1s. But 2-5 seconds is the optimum website loading time. Remember, site speed is a crucial factor to get indexed on Google. The user does not like to wait.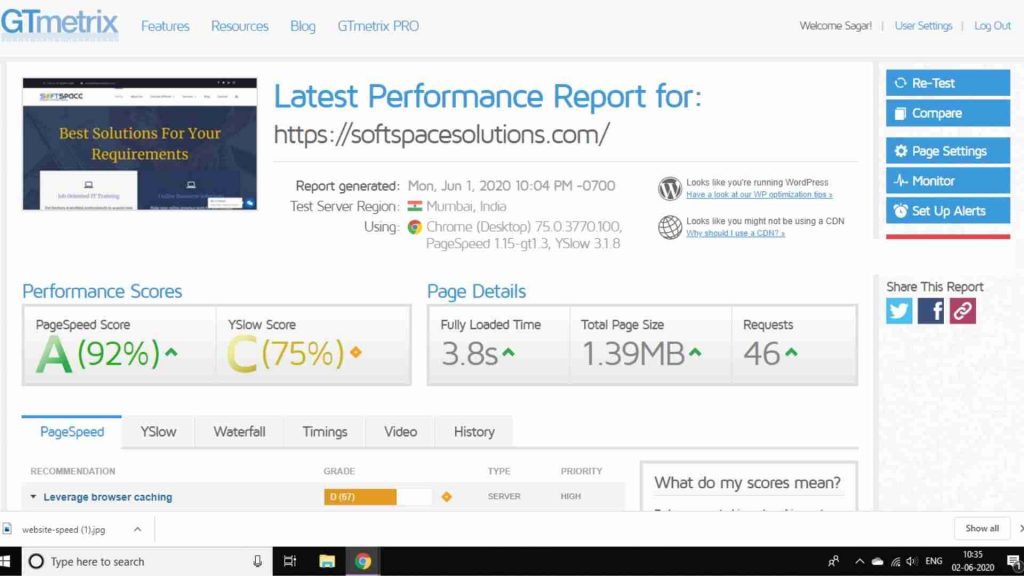 7. Publish Informative Content Regularly
If you are not giving your audience something new to learn, you are of no use to them. People want to learn more about the services they are interested in.
If you happen to provide quality information via blogs and social media, you will easily get more recognition in search engine results.
Furthermore, continuous optimization is a key factor in website ranking. So, start writing or hire a writer. Google indexes and uplifts quality content faster.
This brings us to the question: "What is the ideal blog length?" This question has influenced multiple pieces of research. And some of them have presented their findings as such:
HubSpot: 1700-2100 words.
HookAgency: 1760 words.
Buffer: 1600 words.
Search Engine Journal: 2000 words.
Moz: 2,350 to 2,425 words.
The blog length also depends on your NICHE. You cannot write a 1000-word review for a Gadget Review. So, be smart. Do research. Find what niche needs what information. This will tell you what to write and how much to write.
8. Ping Your Website
If you are into blogging, you need to tell search engines about the new content you published. So, what to do? PING. Pinging particularly helps you make a search engine aware of new content immediately.
It helps them index and gather data faster. By pinging, you are especially inviting search engine bots to check the new content you just published.
You can do this via the search console also. Just type the URL and request indexing. That's it.
9. Improve Internal Link Structure
Whenever you set up your navigation, make sure they are interlinked. Indexing is indeed necessary for all pages. Remember, Google does not rank a website, it ranks the pages. Anchor texts are rather a huge part of internal linking.
At any point in your content, you can provide a link to the blog related to a particular topic. Google likes text links more than image links. Use schema to do this.
Links are extremely important for SEO. Also, internal links within the content are much more appealing. These are known as CONTENTUAL LINKS. Google loves it. Google bots use these links to crawl through the website. Using the right links following, you make Google understand
Relationship between the pages.
Page relevance.
Value of the pages.
10. Gain Quality Inbound Links
If someone refers you, means you are good at what you do. Similarly, a good amount of quality backlinks can help Google find your website easily. When Google scans links on a particular website, it discovers new websites.
You can fast-track your link-building process by answering queries on Quora & Q&A. don't link to everyone or low-quality websites. Link quality is much more important than quantity. 
If you want your website to get indexed on google, the above steps will lay out a basic foundation for your cause. Further, you need to work in detail to get to the top. For any queries related to the topic, drop a comment here.
Update Old Content with new updates.
Publish Topicwise Ultimate Guides.
Use Images to Earn Links & Mentions.
Use Directories.
Use the Broken Link Building Method.
To conclude, you must understand that, it is all bout the content quality. To get indexed on google, you have to provide quality information on your niche. Write the best articles to provide knowledge. Write better than others which is the concept behind THE SKYSCRAPER TECHNIQUE.
When you give quality, you get quality results. As simple as that. So, start planning your content strategy to persuade google to rank you.
Cheers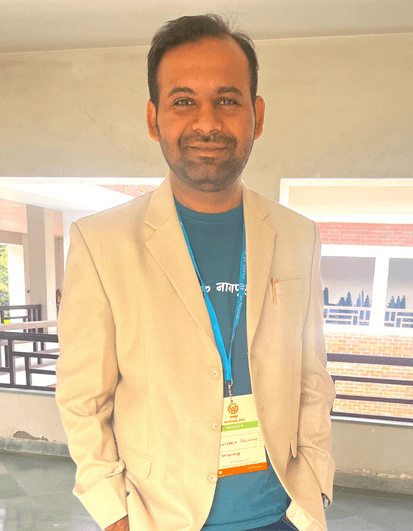 10+ Yrs Experienced Skill Development Trainer | Educator | Digital & Content Strategist. Helping freshers and graduates make sound career choices through practical consultation. Guest faculty and Digital Marketing trainer working on building a skill development brand in Softspace Solutions.